We are not at swimming. We are at home or at work dealing with health care or teaching or doing other things that are essential to the rest of society. We will keep an eye out for swimming resuming when appropriate to do so. 
In the meantime, swimmers cannot afford to lose fitness. This week in this blog I will set out some areas that you should focus on. I was going to model these exercises but once I saw the actual footage (as opposed to how I imagined I looked), I decided google procurement was the better way to go. Also, you can do these at home in a little bit of area and even under the strain of a bloody stupid neighbour who is trimming hedges into stupid precise shapes for hours per day using a noisy, polluting petrol powered trimmer. Day in day out. I have tried that too.
From the site Myswimpro: https://myswimpro.com/blog/2018/10/04/dryland-exercises-for-swimmers/
Dryland stretches:
Arm Circles: Small Forward, Small Reverse, Medium Forward, Medium Reverse, Large Forward, Large Reverse.
Swinging Arms: Target Triceps and open chest.
Legs: Butt kicks & swinging legs – target hamstrings.
Core: Plank, T-Rotation, alternating arm/leg raises.
Dryland workout
10x BURPEES
10x ALTERNATING JUMP LUNGE
10x LEG LIFTS
10x PLANK PROGRESSION
Perform this routine 5x with 30-60s rest between each round. This workout routine is best for swimmers looking to elevate their swim training and activate their entire body before a swim workout. Below is a more advanced circuit with 4 different exercises.
Advanced dryland workout (A Team, that probably is what you do)
10x PUSHUPS: Regular, Wide, Diamond, Weighted, Clapper
10x DONKEY KICKS
10x SIT TO STAND JUMPS
10x PULL UPS: Regular, Neutral, Wide, Curl ups, Clapper
Perform this routine 5x with 30-60s rest between each round. This dryland routine will be very taxing on your body in a short period of time so if you're just getting started, it's best to start with less repetitions or complete only 2-3 rounds rather than 5 rounds.
There were no pictures of the donkey jumps so i am just having a guess that that involves kicking behind maybe toward your teenager when they tell you not to interrupt them. 
From the swimoutlet site: https://www.swimoutlet.com/guides/stretches-for-swimming
I added these because they have something called a pretzel stretch for buttocks. Amusing. Small things amuse 
---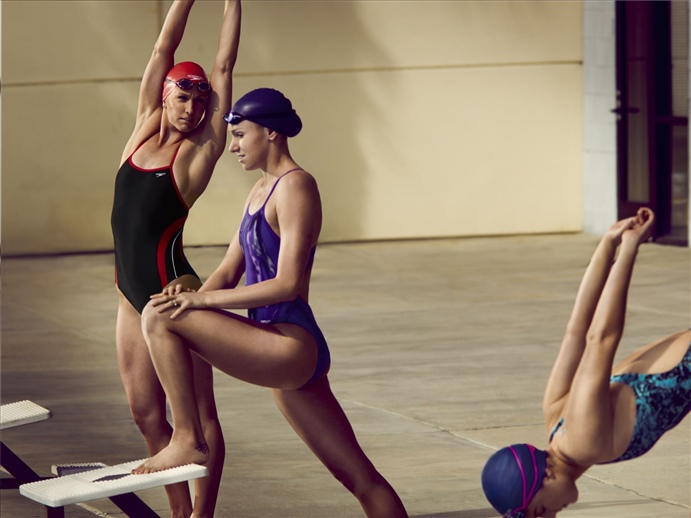 Swimming  This guide covers the main stretches that you should use for your arms, back, and legs. For each stretch, hold the position for 30 seconds, and repeat for both sides.
Arms & Shoulders
Elbow Pull for Your Arm Pit
In swimming, you're constantly using the muscles that surround your arm pit. Every pull you take — for all four strokes — uses these muscles which include your triceps, lats, and various shoulder muscles. Make sure you stretch them out really well. Here's how: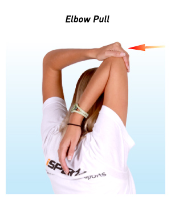 1. Place your right hand behind your head, and point your elbow straight up.
2. Take your left hand and place it on your right elbow.
3. Pull your right elbow inward with your left hand.
4. Hold this position. Then switch arms, and repeat.
Wall Press for Your Front Shoulder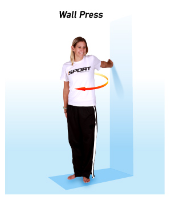 The front of your shoulder is always a hard place to stretch. The wall press is a great way to access those hard to reach muscles. Follow these steps for a good wall press:
1. Place your right hand on a wall at shoulder height. Place your palm on the wall so your thumb is facing upward.
2. Slightly bend your right elbow.
3. Twist your body to your left — away from the wall.
4. Hold this position. Then switch arms, and repeat.
Legs & Buttocks
Since the kick propels you through the water, you will likely rely on your legs and buttocks muscles extensively. Make sure you spend some time stretching out these muscles.
Wall Lean for Your Calves
This stretch is great after long kicking sets. After you feel that burning sensation in your calves, wall leans are a great way to loosen them up. Here's how to do a wall lean: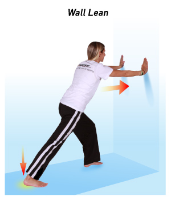 1. Place your hands on a wall at about shoulder-height. Keep your hands shoulder-width apart. Lean against the wall while facing toward it.
2. Scoot your right foot back as far as it can reach without straining it.
3. Place your right heel on the ground.
4. Keep your right leg straight.
5. Hold this position. Then switch legs and repeat.
Pretzel Stretch for Your Buttocks
Believe it or not, you use your buttocks a lot in swimming. You use it while you kick. You also use it every single time you push off the wall. Think about how many turns you do in every practice! You'll soon realize how much these muscles are utilized when you begin this pretzel stretch. Follow these steps for a good pretzel stretch:
1. Sit down on the ground.
2. Bend your right leg, and place the sole of your foot flat on the ground.
3. Lift your left leg up, and place your left ankle on your right thigh.
4. Push your left knee away from you. If you're not feeling the stretch, scoot your right foot in closer to your buttocks.
5. Hold this position. Then switch legs, and repeat.
Butterfly Stretch for Your Inner Thighs & Groin
There are a fair amount of groin injuries that occur in swimming: Especially in breaststroke. To help prevent inner thigh and groin injuries, make sure you stretch them out really well.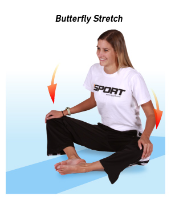 1. Sit up tall on the floor.
2. Bend your knees and relax your calves against the floor.
3. Press the soles of your feet together.
4. Hold your feet so that they remain touching. For a deeper stretch, press down on your knees.
Back
In freestyle and backstroke, you constantly rotate from side-to-side. This uses your laterals and lower back constantly. Spend some time stretching out your back to get your muscles feeling loose.
Model Pose for Your Laterals
Swimmers tend to have very defined laterals for a reason. You are constantly overworking these muscles in practice. The model pose is a fantastic stretch to loosen up your overused laterals.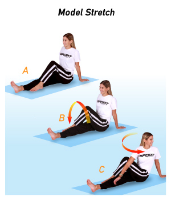 1. Sit on the floor.
2. Bend your left leg, and place your left foot flat on the ground.
3. Straighten your right leg.
4. Cross your left foot over your right leg.
5. Take your right elbow and press it diagonally against the outside of your left leg.
6. Push against your leg, and twist your torso.
7. Hold this position. Then switch sides and repeat.
Child's Pose for Your Lower Back & Hips
The child's pose will feel so good after practice! Your lower back can feel increasingly sore after practice. This stretch does a great job of accessing those lower back and hip muscles. Follow these steps for a good child's pose: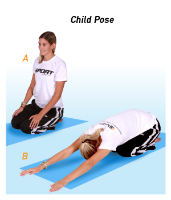 1. Kneel down so that your whole shin is touching the floor.
2. Touch your legs together.
3. Rest your thighs on your calves.
4. Lean over your thighs so your belly touches your legs.
5. Lay your forehead on the ground.
6. Stretch your arms out in front of you with your palms facing downward.
After Practice
Although many swimmers stretch before practice, it's even more important to stretch afterward. When you're done with your workout, take just a few minutes to stretch out your muscles. Think about it as a warm-down. Stretching after practice will help you loosen up, and let your body repair for your next workout. You'll feel great for your next practice!
MANAGEMENT NOTICES
No swimmers in the Bold and Beautiful Group until health advisory is to swim. There are BB swimmers in self isolation, and in essential services providing front line care to the rest of us, in a range of suburbs.  
A reminder: The  Bold &Beautiful swim has been suspended until further notice.
If you are out and about at this time, please take care, be safe and adhere to recommended guidelines.
Summer Badges
We are aware that some people missed out on their hard-earned summer badges last weekend. Assuming that it is safe and legal to do so, Anne and Ian will be at the benches from 8 until 8.30 am on Saturday so that you can purchase your badges. Please bring the correct money and maintain personal distancing protocols.
Note that, it is OK to log your swims while the B&B is suspended, but there will be no badges awarded while the suspension applies. This will affect the winter badges if (as appears likely) the suspension is not lifted by the end of winter.
B&B Blog
In an effort to keep you engaged during this difficult time our blogging team want to hear from you. Our bloggers have free reign during this time, so if you have photos or anything interesting to share, you can send it to our bloggers at [email protected]. Show us how you are spending your time in isolation.  What is your favourite B&B memory or photo? Tell us why you love the group so much. We will share your stories and photos on the blog over the coming months.  Please show your appreciation of our blogging team by commenting at the bottom of the blog.  It is also possible that, in these difficult times, you have a need that someone in the B&B community may be able to fulfil (eg do you need somewhere to live, are you isolated and need help with shopping, or have you run out of toilet paper?). Feel free to ask in the comments at the bottom of the blog. Above all, stay safe.
Bluewater Cafe
Like all restaurants, Bluewater Cafe has had to limit its activities to takeaway only. I am informed however that they will still provide the B&B breakfast for you to takeaway. The new owners Jane and Kwan have continued to support the B&B so let's try and help them through this difficult time.  Find more details on their current menu and operations on their Instagram page @bluewatercafemanly (Facebook page coming soon).
What I have been reading
I have been reading messages from every business I have ever unsubscribed from. These are being sent to tell me what they are doing during the covid crisis but to also afresh offer me deals. Kogan I unsubscribed from you a lot of times. 
a Maria Kallio Mystery by Leena Lehtolainen called Death Spiral. Ice Skating and murder. Gasp. Translated from Finnish. 
I also have been watching a lot of TV while overeating. One show was promising - Seizure from Norway. A murder mystery with some heavy handed messaging about refugees and prejudice. But then there were eels. Everywhere. I don't get it. 
Like everyone, I am thinking what I can do to keep my local businesses afloat. I have seen initiatives like a raincheck scheme and also the Orpheum is asking people to buy books of tickets. Also the royal north shore hospital has a scheme where you can pay for coffees for doctors and nurses who are working around the clock to keep people going. Do what you can and don't forget there are still other illnesses around that people have to deal with so give blood if you can or plasma.
Bold and Beautiful is owned and operated by Bold and Beautiful Swim Squad Pty Ltd.