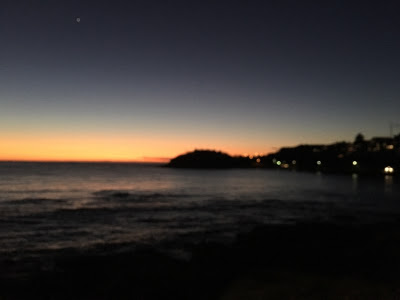 Lainey here publishing for Deaanna Waters.
Today Australians and New Zealanders remember those who have served for their country and the Gallipoli landings as we celebrate Anzac Day.
For many the day started before dawn with the service, for those that made the effort the sunrise was spectacular.
More than 900 Bold and Beautiful swimmers also paid their respects with the following service.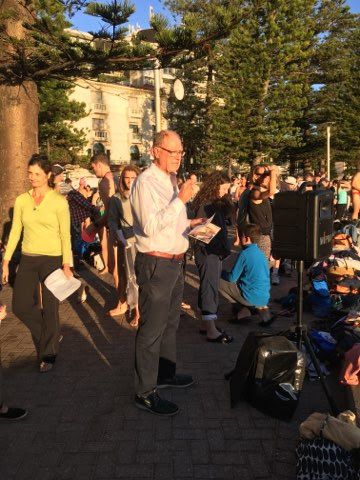 Bruce Baird told us the story of the Ode.  The Ode comes from Far for the Fallen, a poem by the poet and writer Laurence Binyon from Poems of the Great War in 1914.
"They shall grow not old, as we that are left grow old
Age shall not weary them, nor the years condemn.
At the going down of the sun and in the morning
We will remember them.  Lest we forget"
Lucy was the first of our three speakers told swimmers and spectators the following
"We meet here, not to glorify war or praise victors, but to remember those who have served our country during times of conflict and crisis, and to reflect upon their selfless sacrifice.
On this day in the darkness, before dawn, the Anzacs stormed ashore in a place now know as Anzac Cove.  It was our first major contribution to the world as a nation."
Followed by Murray:
"We are gathered here to honour the memory of those gallant men and women who sacrificed their lives in service to their country.
Time dims the memory of ordinary events, but not great events.  In a  nation's history, great events - whether in peace or war - live in our memories regardless of time.  They are deemed great not necessarily for what they have achieved, nor for whether they were more victories or successes."
Izzy wrapped it up:
"On this anniversary of the landing of the Australian and New Zealand Arm Corps troops at Gallipoli, we commemorate the event with a special sadness because, the men who made that fateful landing on the 25th of April 19155 are all but gone.
Like hundreds of thousands of our fellow citizens who gather at memorials in cities, suburbs and towns across Australia, we have come here to commemorate one of the most significant events in our national calendar."
The Last Post was then played followed by a minute's silence which left the beach eerily quiet with just the sound of the waves crashing in to shore - kind of similar to the sounds the soldiers would have encountered as they landed on Gallipoli.
Then we all joined in the singing of the national anthem before our memorial swim.  Today is about remembering with family such as Sophie who was joined by her beautiful family.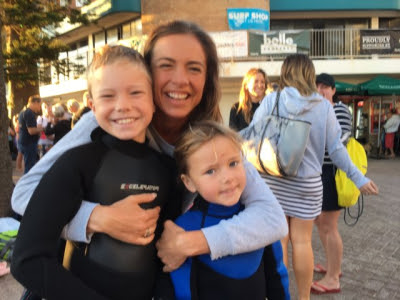 And sharing time with friends such as our beautiful Bexi Buddies who started the morning with a run, joined in the service and then followed up with the swim.
Whether it be enjoying a nip of rum and a game of two-up or spending time with family and friends have a great Anzac Day and thanks for sharing Bold and Beautiful's Anzac Service.
Management notices:
Water temperature 21.7 degrees
Newbies   20
Total swimmers   950
The Monthly Dinner – 14th May 2019 – Guest Speaker
The Next B&B monthly dinner for the year will be held on Tuesday 14th May at 6.30 pm at Bluewater Restaurant. Our guest on the night will be B&B Swimmer, Peter Anthony, who has a Masters in Communication and has written a book on conversations.  The title of his talk is You talkin' to me?  and is a talk about talking. Great conversations build better relationships, better businesses and stronger families. And can make you better parents, better partners, even better lovers. Own your hook, claim the wall, master the benches. Learn how to tell your story in your own best words, and why your way is the best way.
Please book early for this event as it is sure to be popular. The cost of the dinner is great value at only 
$25 a head
, which includes shared entrees, and a selection of mains to choose from (including a vegetarian option). Glasses of beer or wine and desserts are also available at the special price of only $5 each. Numbers are limited, so bookings are essential:  To avoid disappointment and secure your spot please
book at 
www.boldandbeautifulmanly.com.au/bb-bluewater-monthly-dinner.html
Bold and Beautiful is owned and operated by Bold and Beautiful Swim Squad Pty Ltd.