Where better to spend hot sunny summer Christmas Days than our very own Manly Beach and in particular swimming from Manly to Shelly and back.  A lot of people have ditched the wetties and the ugly Christmas rashies are starting to make an appearance.
An no its not reindeer in the water - flippers make a very good substitute for reindeer antlers.
Murray from the Babewatch crew is excited as he has a new role while Sarah has one more week before she is allowed back in the water after cataract surgery.
Paul usually tries to dodge the camera but he obliged today, which is just as well as his buddies held a mini arch to celebrate the slowest 300km for a regular B&B swimmer - well done Paul, remember its not a race, its about sharing the environs around us and all Manly has to offer.
Elizabeth Stewart is busy training for the summer 6 and 10k events which are held throughout the summer months.  The 6k event is held each Saturday during summer, conditions permitting and leaves with the regular B&B swim at 7am before heading to Freshwater and back.  The first 10km swim is being held this Sunday, led by John Bond.  Only those swimmers leaving with the main group will be recognised and John asked me to remind you all to bring your own food and drinks.
The kelp is slowing disappearing, but there's still some to wade through before our swim - conditions were still a little murky today but it is definitely clearing up and with water temperature of 20.5 it certainly is a pleasant place ot be each morning.
Bondy was out early with the 6.30 group.
One thing is certain there were plenty of smiles, not so much to see, although I did see a fiddler ray just off the beach.
If you have lost your goggles in the last couple of days check the hooks as Roger found three pairs in the shallow water.
Anyway have a great day and hope to see you swimming soon.
Management notices:
Water temp: 20.5
Newbies:       4
Total swimmers:   193 says Anne - 240 says Ian
SUMMER SWIMMING BADGES 
As the Summer long distance swimming season approaches, it seems appropriate to explain what it takes to earn a Summer badge. Three long distance swims are on offer:
The 6 km swims are held every summer Saturday morning starting with the 7 am swim. The first 6 km swim will be on Saturday 1st December.
There is a 10 km swim once a month over summer also starting with the 7 am swim. Dates for these will be announced in the blog. The first will be on December 8th.
Please note, Badges will be awarded to swimmers completing any and/or all of the 3 swims at the times and dates stated above and throughout the Summer months. 
You will earn a badge if you complete these swims and log them in iLog. The system will only record authorised 6K or 10K swims that are logged on the appropriate days. Badges will be presented at the Summer Badge Ceremony in March. If you are unsure of the routes and protocols for these swims, please ask at the desk before you swim. When swimming these longer distances, we request that, for safety reasons, you stay with the group. We also request that you do not swim in dangerous conditions. The quest for a little cloth badge is not worth putting your life at risk. Enjoy your swimming.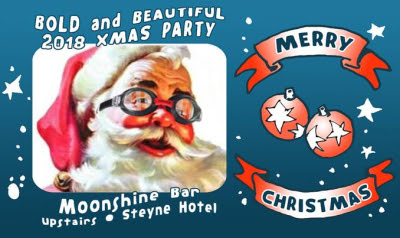 B&B Fundraising Christmas Party
Please book early for the B & B Christmas Party, which will be held on Tuesday 11th December at 6.30 pm in the Moonshine Bar (2nd Floor) at the Steyne Hotel. All swimmers and partners/friends are welcome (no under 18s unfortunately). The theme is simply "Christmas", so come dressed in your finest Christmas paraphernalia. The music this year will again be provided by the band, "Gluteus Maximus", who play two types of music, Rock and Roll! The cost is $15 per head, with all proceeds going to the running costs of the B&B. Book now! Don't miss out on this fun event, as numbers are limited. Book HERE now!
On the night, Royal Far West will be running a monster raffle and auction. Last year, this raised over $4000 for their important programs for disadvantaged kids. There will be fantastic items up for grabs, so be prepared to bid hard. Royal Far West have requested if you have any valuable items to donate for the auction or raffle, that you contact Desiree (desireec@royalfarwest.org.au), who will be co-ordinating the event for RFW.
Bold and Beautiful is owned and operated by Bold and Beautiful Swim Squad Pty Ltd.