Morning all and what a sensational day.
Apart from some seaweed in close, the water temps were over 20 degrees at last and conditions were excellent for all those tuning their personal bests. The tide was high and no sign of the killer wobby attaching to anyone to affect their times. I joined the 6:30 express and let me say there was no dawdling in that crew, hardly a moment to dwell on photos.
But for those that missed the Sunrise...
And a close up of the ferrel wobby bite for those that missed it.
And following the water testing, John Bond wants to make sure you long distance guru's don't forget your lunch.
And for those of you that haven't seen the 6:30 Express a few photos for your guide.
The calm before the storm.
Not a lot to see today subsurface.
And for your guide no special announcements and not a lot of rest time in the bay.
A cracking pace from the turnaround.
And on the way in Terry(PapaTEZ - new grandfather) and sister Jenny leading out the 7am crew.
And a shot from a little while back that I thought I would share again.
All the best for the week and smile as we could not be luckier than to live within cooee of this.
Cheers - Brian
And a special message from management
Join us for our last beach clean of the year - Clear tides Christmas clean! 

Sunday 16th December 
9 am 
Help us clean up the beautiful cabbage tree bay 

We have an amazing day planned including free brunch, kids face painting, a raffle draw and more!! 

Come down, help us clean up the bay and then join us as we celebrate an amazing year of Clear tides organisation!
SUMMER SWIMMING BADGES 
As the Summer long distance swimming season approaches, it seems appropriate to explain what it takes to earn a Summer badge. Three long distance swims are on offer:
The 6 km swims are held every summer Saturday morning starting with the 7 am swim. The first 6 km swim will be on Saturday 1st December.
There is a 10 km swim once a month over summer also starting with the 7 am swim. Dates for these will be announced in the blog. The first will be on December 8th.
Please note, Badges will be awarded to swimmers completing any and/or all of the 3 swims at the times and dates stated above and throughout the Summer months. 
You will earn a badge if you complete these swims and log them in iLog. The system will only record authorised 6K or 10K swims that are logged on the appropriate days. Badges will be presented at the Summer Badge Ceremony in March. If you are unsure of the routes and protocols for these swims, please ask at the desk before you swim. When swimming these longer distances, we request that, for safety reasons, you stay with the group. We also request that you do not swim in dangerous conditions. The quest for a little cloth badge is not worth putting your life at risk. Enjoy your swimming.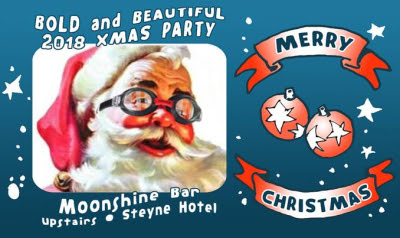 B&B Fundraising Christmas Party
Please book early for the B & B Christmas Party, which will be held on Tuesday 11th December at 6.30 pm in the Moonshine Bar (2nd Floor) at the Steyne Hotel. All swimmers and partners/friends are welcome (no under 18s unfortunately). The theme is simply "Christmas", so come dressed in your finest Christmas paraphernalia. The music this year will again be provided by the band, "Gluteus Maximus", who play two types of music, Rock and Roll! The cost is $15 per head, with all proceeds going to the running costs of the B&B. Book now! Don't miss out on this fun event, as numbers are limited. Book HERE now!
On the night, Royal Far West will be running a monster raffle and auction. Last year, this raised over $4000 for their important programs for disadvantaged kids. There will be fantastic items up for grabs, so be prepared to bid hard. Royal Far West have requested if you have any valuable items to donate for the auction or raffle, that you contact Desiree (desireec@royalfarwest.org.au), who will be co-ordinating the event for RFW.
Bold and Beautiful is owned and operated by Bold and Beautiful Swim Squad Pty Ltd.