The persistent NE wind continues to serve up a rather interesting mix of big swell and strong rips in the southern corner. So management had a clear message for the 330 swimmers this morning:
If you're not 100% sure, walk to Shelly and do an anticlockwise round-trip to the point and back:
Surprisingly, despite JK's notorious lack of authority, many swimmers followed his guidance this morning and went on a leisurely walk towards Shelly.
Others were up for the adventure and headed straight down the ramp:
Lainey is keeping Freddie on a long leash these days:
Entering from the surf beach was a bit of a lottery this morning - some people had an easy way out, while others had to fight big sets:
Things you see on Marine Parade.. Drew and Sarah:
Richard :
Sarah (again!), Jim, Justus, and Errol:
Lessons in entering at Halfway:
#1 - Pose for a photograph..
#1 - Walk elegantly over the rocks..
#3 - Hesitate for a moment..
#4 Swim!
More encounters on the way to Shelly - Marine Parade just kept on giving this morning:
Matt's back for a pit stop:
Michael told me he had an easy way out through the surf - no duck diving required:
Brad showing off his new goggles:
The Royals:
Encounters during my anticlockwise swim:
Overall, a fun swim..  Peta gave it a 9 out of 10:
Finishing the morning at Manly Wine:
Gotta run! Have a great Sunday. Stay safe. Be nice to each other..  Lips x
TODAY'S STATS:
Swimmers:  330
Newbies:      19
Temp:          19.7

SUMMER SWIMMING BADGES:
As the Summer long distance swimming season approaches, it seems appropriate to explain what it takes to earn a Summer badge. Three long distance swims are on offer:
The 6 km swims are held every summer Saturday morning starting with the 7 am swim. The first 6 km swim will be on Saturday 1st December.
There is a 10 km swim once a month over summer also starting with the 7 am swim. Dates for these will be announced in the blog. The first will be on December 8th.
Please note, Badges will be awarded to swimmers completing any and/or all of the 3 swims at the times and dates stated above and throughout the Summer months. 
You will earn a badge if you complete these swims and log them in iLog. The system will only record authorised 6K or 10K swims that are logged on the appropriate days. Badges will be presented at the Summer Badge Ceremony in March. If you are unsure of the routes and protocols for these swims, please ask at the desk before you swim. When swimming these longer distances, we request that, for safety reasons, you stay with the group. We also request that you do not swim in dangerous conditions. The quest for a little cloth badge is not worth putting your life at risk. Enjoy your swimming.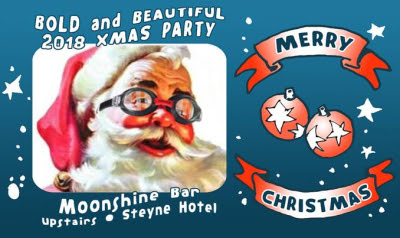 B&B Fundraising Christmas Party:
Please book early for the B & B Christmas Party, which will be held on Tuesday 11th December at 6.30 pm in the Moonshine Bar (2nd Floor) at the Steyne Hotel. All swimmers and partners/friends are welcome (no under 18s unfortunately). The theme is simply "Christmas", so come dressed in your finest Christmas paraphernalia. The music this year will again be provided by the band, "Gluteus Maximus", who play two types of music, Rock and Roll! The cost is $15 per head, with all proceeds going to the running costs of the B&B. Book now! Don't miss out on this fun event, as numbers are limited. Book HERE now!
On the night, Royal Far West will be running a monster raffle and auction. Last year, this raised over $4000 for their important programs for disadvantaged kids. There will be fantastic items up for grabs, so be prepared to bid hard. Royal Far West have requested if you have any valuable items to donate for the auction or raffle, that you contact Desiree (desireec@royalfarwest.org.au), who will be co-ordinating the event for RFW.
Bold and Beautiful is owned and operated by Bold and Beautiful Swim Squad Pty Ltd.