"The person who is swimming against the stream, knows the strength of it." Woodrow Wilson
It was another beautiful, moody morning at Manly this morning.
I was looking for inspiration for the this short blog and googled quote of the day and this one popped up.
The last couple of days the strength of the currents has been challenging, the waves have renewed energy and people are working to their limits, whatever they maybe. The ocean holds wisdom in all its manifestation, it has somethingto share in both calm and choppy waters. I find the waves and currents often cause me increased heartrate, but this morning my swim buddy just said, 'under this one, that one's done.... and now this one.' the quiet assurance of a friend, when we are on the edge of our comfort zone is such a gift. Another of our crew found a mate at the point, when she clocked the waves were a bit bigger than normal, his words of guidance gave her a the opportunity to hop on the wave feeling the strength and rush of a good ride in.
So thanks to all the people who stop when the 'strength of the stream' makes us pause and look around for support.
Happy Saturday to the lovely Bold and Beautiful community.
PS... a beautiful shot of Jen(my assuring wave guide) and Steve (the wonder dog)...xx
Stats
Swimmers 
Strong showing in the 6.30am, and heaps n heaps at 7.00am.
Water Temp
Perfect
NOTICESRoyal Far West's City to Country Week (March 24-30) is a celebration of 95 years of the Manly community making a real difference to children in rural and remote Australia. There are lots of great activities for City to Country Week including a "Behind the Scenes" Open Day this Sunday with stunning archival photos; past present & future history tours; BBQ and country games for the kids. Join our pollies vs the people giant tug of war at 12pm! For more information please click here http://www.royalfarwest.org.au/city-to-country/
RANDOM MONTHLY SWIMMER PRIZES !!
Thanks to an amazing new partnership, B&B will be awarding random monthly prizes just for swimming !!!!
What's the catch... you MUST LOG YOUR SWIMS TO BE IN THE DRAW !!!  To learn more about how to log your swims if you aren't already, please check details in the recent newsletter or send an email to ugoboyo@gmail.com
As of 1st February, every time you swim with B&B and log your swim as such, on our daily attendance software, you will automatically be entered into the monthly lucky swim prize !!!
Yep, each time you swim with B&B and log your swim that equals an entry into the random prize draw !!!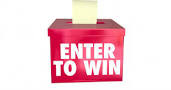 Prize draw will be completed at the end of each calendar month and completed by the computer software.
And there's more... THERE WILL BE AN EVEN BIGGER PRIZE FOR RANDOM SWIMMER OF THE YEAR !
And there's still more.... there will be a surprise event with maybe even more prizes... launching this relationship and the details of the prizes one weekend in February.  I guess you'll have to swim to be lucky enough to be there :-)
Bold and Beautiful is owned and operated by Bold and Beautiful Swim Squad Pty Ltd.