A
Simon
Happy 90th Birthday mum.
Stats : water 23+ degrees, swimmers: edging to 200, newbies: a few.
NOTICES:
Royal Far West's City to Country Week (March 24-30) is a celebration of 95 years of the Manly community making a real difference to children in rural and remote Australia. There are lots of great activities for City to Country Week including a "Behind the Scenes" Open Day this Sunday with stunning archival photos; past present & future history tours; BBQ and country games for the kids. Join our pollies vs the people giant tug of war at 12pm! For more information please click here http://www.royalfarwest.org.au/city-to-country/
RANDOM MONTHLY SWIMMER PRIZES !!
Thanks to an amazing new partnership, B&B will be awarding random monthly prizes just for swimming !!!!
What's the catch... you MUST LOG YOUR SWIMS TO BE IN THE DRAW !!!  To learn more about how to log your swims if you aren't already, please check details in the recent newsletter or send an email to ugoboyo@gmail.com
As of 1st February, every time you swim with B&B and log your swim as such, on our daily attendance software, you will automatically be entered into the monthly lucky swim prize !!!
Yep, each time you swim with B&B and log your swim that equals an entry into the random prize draw !!!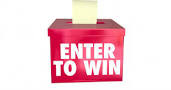 Prize draw will be completed at the end of each calendar month and completed by the computer software.
And there's more... THERE WILL BE AN EVEN BIGGER PRIZE FOR RANDOM SWIMMER OF THE YEAR !
Bold and Beautiful is owned and operated by Bold and Beautiful Swim Squad Pty Ltd.