Amazing light show this morning - it was worth coming down just for the sunrise!
Little Sarah wearing her trademark pink cossie, adding an extra splash of colour to an already colourful morning:
It was Tanja's last swim with us before heading back to Hamburg later today:
Did I mention the sky looked spectacular as we walked down the ramp at 7am?
And so did Mary:
Still a solid amount of East swell - just enough to keep things interesting:
Distracted by the light show, I just missed the 'Let's Go!' at the Point:
Over at Shelly, I catch Mauricio flirting with my wife.. (who looked smitten)
It was Michael who showed me the ropes of photo bombing back in 2012.. he's still got it:
Guess the swimmer:
Okay, that was too easy..
Mary and I decided to join Anne's jolly ragtag group of doublers for a second serving of Cabbage Tree Bay goodness this morning.
A rare chance for the doublers to get their group photo taken at Shelly:
Special shout-out to Greg who was given the honour of calling the doubler 'let's go' at Shelly':
Mary rubbing shoulders with 'The Queen of Doubles' and acting 'Keeper of the Whiteboard':
Have a great Sunday everyone. It was an absolute pleasure swimming with you all!
Lips x
Stats
Swimmers:
Heaps of regulars including 17 doublers.
Water Temp:
Pure bliss
NOTICES:
Royal Far West's City to Country Week (March 24-30) is a celebration of 95 years of the Manly community making a real difference to children in rural and remote Australia. There are lots of great activities for City to Country Week including a "Behind the Scenes" Open Day this Sunday with stunning archival photos; past present & future history tours; BBQ and country games for the kids. Join our pollies vs the people giant tug of war at 12pm! For more information please click here http://www.royalfarwest.org.au/city-to-country/
RANDOM MONTHLY SWIMMER PRIZES !!
Thanks to an amazing new partnership, B&B will be awarding random monthly prizes just for swimming !!!!
What's the catch... you MUST LOG YOUR SWIMS TO BE IN THE DRAW !!!  To learn more about how to log your swims if you aren't already, please check details in the recent newsletter or send an email to ugoboyo@gmail.com
As of 1st February, every time you swim with B&B and log your swim as such, on our daily attendance software, you will automatically be entered into the monthly lucky swim prize !!!
Yep, each time you swim with B&B and log your swim that equals an entry into the random prize draw !!!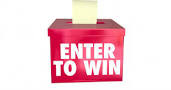 Prize draw will be completed at the end of each calendar month and completed by the computer software.
And there's more... THERE WILL BE AN EVEN BIGGER PRIZE FOR RANDOM SWIMMER OF THE YEAR !
And there's still more.... there will be a surprise event with maybe even more prizes... launching this relationship and the details of the prizes one weekend in February.  I guess you'll have to swim to be lucky enough to be there :-)
Bold and Beautiful is owned and operated by Bold and Beautiful Swim Squad Pty Ltd.