Today is the start of a new season, time to make good on those resolutions that had fallen by the wayside, start that exercise regime, chose some healthier habits and generally start getting ready for summer.  For me, I'm trying to get into healthier habits as well with a run before my morning swim.  This was the magical sunrise at about 5.30am this morning.
The 6am swimmers must be loving the fact they can put away their head torches and get to see some of the spectacular sea life in Cabbage Tree Bay.
The yogis were also out on the beach getting their hour of poses done before the swim.
Oscar was one of three newbies and made it from Manly to Shelly and back.
Photos were shared by the Tahiti explorers Jim and Ian.
Where's Lainey - a film crew were interviewing, a piece for the museum I believe.
The morning crowd gathers ready for the 7am roll call.
This morning there were two topics of conversation, birthdays and the huge ray seen by the early swimmers near the rocks at Shelley Beach.  We were all hopeful the ray would still be there and we would be lucky enough to see it.
It was Kerry and Roger's birthday so we celebrated in true B&B style with a great in tune rendition of happy birthday at Shelly Beach.  I'm sure the neighbours were impressed.
Rainer was upset he missed the group photo, so the blog tart found a way to make an appearance.
And then on the way back to Manly we found a true treasure, quietly lying on the sea floor but admired by everyone who saw him.  Apologies my photography skills don't quite compare to our Manly Mermaid but you get the gist.  He was huge.
Lainey sent me a photo taken last year, she's pretty sure it's the same Smooth Stingray
That experience will be remembered for a while.  Have a fabulous day Kerry and Roger and we all hope you get spoilt by friends and family. 
See you all out there swimming soon.
D from the Z's
Messages from Management
B&B monthly dinner: Tuesday 13th September
6.30 pm at Bluewater Restaurant
Guest speaker is Jude Furniss (Founder of Bommie Australia and President of  Surfrider Foundation Manly)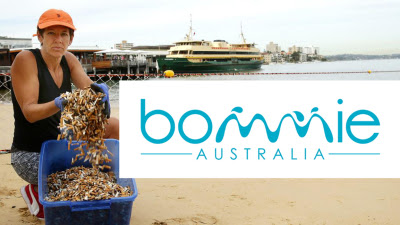 Jude will present the film "My Saltwater Sanctuary" including footage from Cabbage Tree Bay, which was declared an Aquatic Reserve in 2002.  We all witness daily the stunning success story of how protection over the last ten years has replenished the marine populations here.

NSW currently only has 7 % of its coastline protected in twenty marine sanctuaries, so Surfrider Foundation has joined the Nature Conservation Council in the charge to lobby government to restore the ten sanctuary zones still unprotected, and increase the percentage of marine park areas in NSW by establishing a Sydney Marine Park.
 
Made by producers Bluebottle Films, it's a beautiful film about locals living alongside marine reserves ... and the difference every one of us can make in the protection of them.
https://bluebottlefilms.com/portfolio/my-saltwater-sanctuary/
Cost of dinner: $25 a head     Includes shared entrees, a selection of mains to choose (incl a vegetarian option), corkage (for byo wine only) and a little thank you for the staff.

Glasses of beer or wine and desserts are also available at the special price of only $5 each.
Numbers are limited, so bookings are essential:  
 -----------
2016 Winter Badge Ceremony
You've done the hard yards and got your Winter Badge (or even harder yards for a WWW), now come and collect your badges with all the pomp and ceremony the B&B can muster.  Bring along $10 for each badge you have earned (correct money appreciated). The venue is the Royal Far West Children's Home (opposite the beach) on Sunday 11th September, straight after the regular swim!
A $5 donation will be payable to the RFW at the gate for hosting this event, and .... RFW will provide a FREE breakfast (sausage sandwich and a coffee/tea). Bookings are essential to ensure there is enough food.  
All 2016 winter badge qualifiers will be presented with their well earned badge(s), so whether you are getting one personally or you want to enjoy the celebrations of your fellow swimmers, a great morning is guaranteed so come along, soak up the atmosphere and get inspired for your upcoming summer badge challenges...
STATS
Swimmers:   130
Newbies:      3
Temp:         17.9
Bold and Beautiful is owned and operated by Bold and Beautiful Swim Squad Pty Ltd.