With 60cm of south swell on a 5 second cycle, under brooding clouds, the after swim chatter was all about a new visitor to the bay that was apparently not a dusky. And according to
And according to Lainey it was not anything she had seen before. The best she could tell the eager breakfast crowd was it was gunmetal grey, had a very long curvaceous tail with what she was sure was less fins than our regular customers and had a very calm observer attitude. When asked for size, as is commonly the case after an unconfirmed sighting, it became difficult to be sure.
I left this on its side so you get a perspective. Given the proximity, Lainey has been to most things down deep, we all agreed it was creating a claustrophobic sensation for our small bay. Lainey has asked us all to keep our eyes peeled and camera's ready as she wants a photo for the records. I assured her we would all be most vigilant.
With the moon on the wane and the air temps in the very low teens, it made for a snappy start.
Still balmy though at 19 degrees in the water.
Kinda glad though given the lack of sunshine that the Winter solstice approaches and we can start lightening up again.
As Patrick steamed past me this morning in a flurry, even the bubbles were dark.
The Racing Sea Mullet, we very relaxed this morning, searching I'm sure for the first rays of the sun.
Then all of a sudden it popped out through the clouds.
And again without the passing traffic.
Then Deane sped past showing perfect form with the leading arm.
And in her wake an afterglow sizzling on the horizon. 
And the homestretch. Well worth the early wake-up, people.
And nothing quite like a Sparkles cuddle to warm the cockles. You lucky boy Napoleon.
PS Lara is working on another "B&B swimmers with whales" cossie design ready for the next Whale encounter. Bring it on.
Have a great week people and don't forget as Sparkles always says, where you can, make a difference.
Brian
And the Tail lines
New B&B merchandise available via the link: http://www.boldandbeautifulmanly.com.au/clothing.html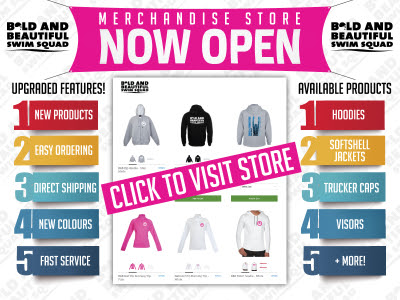 Boldandbeautiful-promo
If you need silicon caps or discount cards as a swimmer, see Ian or John at the desk before your swim!
ATEC

B&B Monthly Dinner at Bluewater Cafes
June - Special Gin and Botanical Vodka Tasting Dinner
The next B&B monthly dinner for the year will be held on Tuesday 13th June at 6.30 pm at Bluewater Restaurant, and will include an exclusive Gin and Botanical Vodka tasting for B&B members and their friends. One of our swimmers, Vanessa Wilton, will talk about her new venture, Manly Spirits Co., which has recently launched with an award-winning range of premium Australian spirits that are crafted to showcase the finest Australian produce, sustainably sourced native botanicals and foraged marine botanicals.
The cost of the dinner is great value at only $25 a head, which includes the gin tasting plus shared entrees, and a selection of mains to choose from (including a vegetarian option). Glasses of beer or wine and desserts are also available at the special price of only $5 each. Numbers are limited, so bookings are essential: To avoid disappointment and secure your spot please book HERE.
The ATEC Show – 9-10 September @ Royal Halls of Industries, Sydney:
ATEC, Australia's premier event celebrating the endurance lifestyle is back this September! Thousands of cyclists, runners, swimmers, triathletes and endurance sports enthusiasts come together to engage with leading endurance brands, learn from industry influencers, meet inspiring athletes, and take part in interactive seminars, workshops, competitions and activations! Book your tickets today on www.atecshow.com.au
Simply use the promo-code "2FOR1ATEC" to grab your 2FOR1 tickets!
Badge info:
The winter swimming season runs from 1 June to 31 August, and to qualify for your winter badge, you must:
swim at least 20 times during this period
swim in at least 7 different weeks
log your swims
To qualify for the WWW badge (winter without wetsuit) you must complete all of the above without wearing a wetsuit or any other form of bodily thermal enhancement (don't forget to check the "without wetsuit" button on the log in screen). Why not give it a try?
Bold and Beautiful is owned and operated by Bold and Beautiful Swim Squad Pty Ltd.