Happy Saturday everyone! Yes we are officially on the other side (you might say the back side if you were here on Tuesday) of the solstice and  our side of the planet turns sunwards once more. If you were thinking the cold weather is over, well I'm sorry, it's not over yet but there is beauty in Sydney winters. Soon we will see new plant growth - buds and flowers -  a sure sign that spring will be with us before we know it.
Every sunrise in our little corner of Earth is lovely but today's was especially pretty.
The 6:30 preparations and psych-ups under way
Dan on his way down to the water and 2 singles despite the cold, cold sand
Then a lull between sets, giving the blogger an opportunity to get some shots for y'all
Preparing for the 7am
Still nice and warm in the water. 

Good to see Shaun is recovering well from his op

Lainey, Charlie and Freddie. 2 of them are going to look for the Grey Nurse

WOWs and all round Nice People Cheryl and Lisa. Cheryl has reasons to be cheerful - her first aid coach Sharon (who works with Lisa) picked up a significant gong at recent surf lifesaving awards night (coach of the year). And quite rightly so, seeing as she coached Cheryl and her co-competitor and they won the national surf lifesaving championships. Congrats ladies. 

Photographing the photographer
A big chunk of today's blog is dedicated to the amazing Michael Tey who swam continuously through the night from 8pm to 8am, raising money for Lifeline. He started in the cold and dark. If you ever swim in the ocean when there is no daylight you know it is pretty spooky. Let alone lonely and cold. No words for this feat. You can still donate on this site, http://www.feedtofeed.com/
This is Michael in the water with one of his support paddlers
Some of Michael's support crew and donation collectors

Isobel and Edwina feeling a bit fuzzy after their early start on the support crew roster
Michael swam the last laps with us. You are a legend, sir.

Michael with his son Patrick
Some of today's doublers
As for our marine friends, there was much focus on spotting the Grey Nurse. So much so that the duskies, cuttlefish, gropers, wobbegongs, old wives, rays and others must have been wondering what the had done wrong and why they were being ignored. Here are a couple of my shots from today. The water was a bit murky today so the quality is not great (I also was focused on spotting the Grey Nurse but was not lucky).
The shark food aka yellowtail still around

Spotted this swimming on its own in the middle of the Bay. Looks like a small catfish


 And here is a shot of the Grey Nurse that I 'borrowed' from Lainey

Stats: 239 swimmers, 3 newbies, water temp 19.2
Important notice! TRIVIA NIGHT 2017
Note from Management: to clear up any confusion, the 2017 Quiz Night is not a B&B event.  It is an event run outside of B&B by two B&B members, Roz Beaver and Elaine De Jager to support Dr. Rays charity.  The normal B&B quiz night will be held next year in 2018.
Most years we have a highly attended, memorable and much loved Trivia Night at The Steyne Hotel. This year's is on 18th July at 6.30pm with a great meal, John Kelly's wit and charm in comparing the trivia, lots of fun and merriment. The theme is 'Nautical' or rather 'Naughty- cal'!!! (Think saucy pirate wenches, Johnny Depp take-offs, sexy sailors, mermaids and mermen. You could even come as a randy Cuttlefish!) It's only $30 per person and you can book a table with friends or we can sort you out with lovely swimmers on a friendly table. There will be raffles, prizes, silent auction so if you please have anything you can contribute please let Roz Beaver, Janet Franks or myself know. We already have Sydney Sail days donated, nights at Whale Beach B&B, original artworks, signed sports jerseys, mounted marine life photos and would appreciate anything you can offer! We are raising money for Dr Ray's charity Australians for Women's Health which desperately needs a women's hospital built in the poorest part of Nepal.
Roz has been working tirelessly to get the ticket booking system up and running so click on this link to book.
 https://www.eventbrite.com/e/trivia-night-tickets-35531373294
Get your B&B kit
New B&B merchandise available via the link: http://www.boldandbeautifulmanly.com.au/clothing.html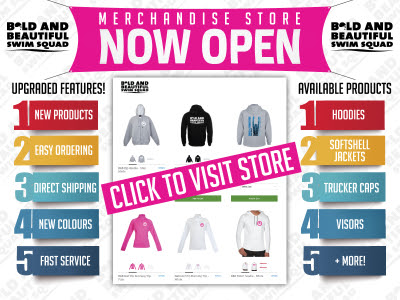 Boldandbeautiful-promo
If you need silicon caps or discount cards as a swimmer, see Ian or John at the desk before your swim!
========================================================================================================
Badge info:
The winter swimming season runs from 1 June to 31 August, and to qualify for your winter badge, you must:
swim at least 20 times during this period
swim in at least 7 different weeks
log your swims
To qualify for the WWW badge (winter without wetsuit) you must complete all of the above without wearing a wetsuit or any other form of bodily thermal enhancement (don't forget to check the "without wetsuit" button on the log in screen). Why not give it a try?
Bold and Beautiful is owned and operated by Bold and Beautiful Swim Squad Pty Ltd.
Bold and Beautiful is owned and operated by Bold and Beautiful Swim Squad Pty Ltd.